I have finally joined Clubhouse and thought I would drop a few tips from what I have learned and observed these first few weeks on there.
1 - Understand what is Clubhouse.
Think of a mix between an interactive radioshow, a Live podcast and a chat between friends. Depending on the size on the speakers network, it can be a really friendly intimate chat, or a massive Live show in front of thousands of people.
Every time someone in your network join a "room" (one of these shows), you get a notification (you can say how often you want to be pinged, in general, and per person you follow).
Usually, it's Live and there are no recording (when there's one, people usually put a red dot in the title).
It's brilliant to learn, connect, create collaboration, ask for help and hear from people from all walks of life.
There's no inbox there, or ways to comment during a room so you need to bring private conversations to another platform, most people have a mix of Twitter, Instagram and Linkedin, the first 2 having a one-click link at the bottom of the bio making it easier to connect via these platforms.
2 - Get ready
Your profile has a huge influence in how easily you can build a following or access the various stages.
Make sure you optimise it from Day 1:
Put a picture with something that can differentiate you (a background color, a hat, a frame around the picture, or like me, my little umbrella picture.) If you are on stage with someone who has the same first name, you want to be able to give a clue to other people to find you. Canva can make it easy for you to do this.
Fill your profile. Tools like https://clubhousebio.xyz/ help write yours from the desktop and showing you a few examples for inspiration
Make sure the first 2 lines of your profile are helpful and get people curious to click on your profile to read more. These 2 lines are what people can read if they click once on your picture.
If you speak various languages, do indicate them
Give the best place to communicate with you and link it up to your profile (at least one other platform) if anyone want to get in touch with you. Putting the url of your site is good, but having a place they can CLICK is better, having both is even better.
Share a few things about what you are looking for on the platform, what you are open to, values and interests as well. It helps have a snapshot of the kind of person you are.
Make sure people can click to your Twitter or Instagram account if they want to get in touch with you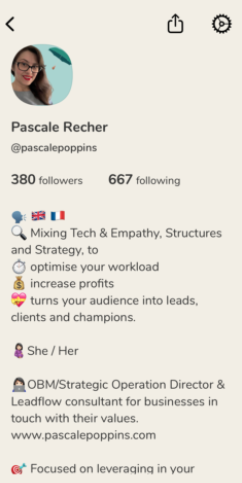 3 - Know the etiquette
If you join speakers on stage, mute yourself till you are invited to speak. The icon is the little mic on the bottom right.
When invited to speak, unmute (same place you muted your mic), give your name, follow the rules of the room (some networking rooms want intro of a minute, some longer, good to know what is expected) and always end your presentation by saying your name again and a little clue about your pic for people who want to check your account (unless it's a free flowing conversation).
Mute yourself again and stay on stage a bit if possible, that helps listeners find you more easily and follow you.
4 - Check other people bios
Follow who is of interest, connect on the platform they indicate if you want to start a conversation.
5 - Have fun and create your first event.
To share your event, tools like https://clublink.to/ or https://gethostnotes.com/ make sharing your events and profile easier and more inviting. It's the little things that make a difference in people wanting to join or not.
Here's my profile on Clublink for example if you want to see if I am moderator or hosting a room the coming week.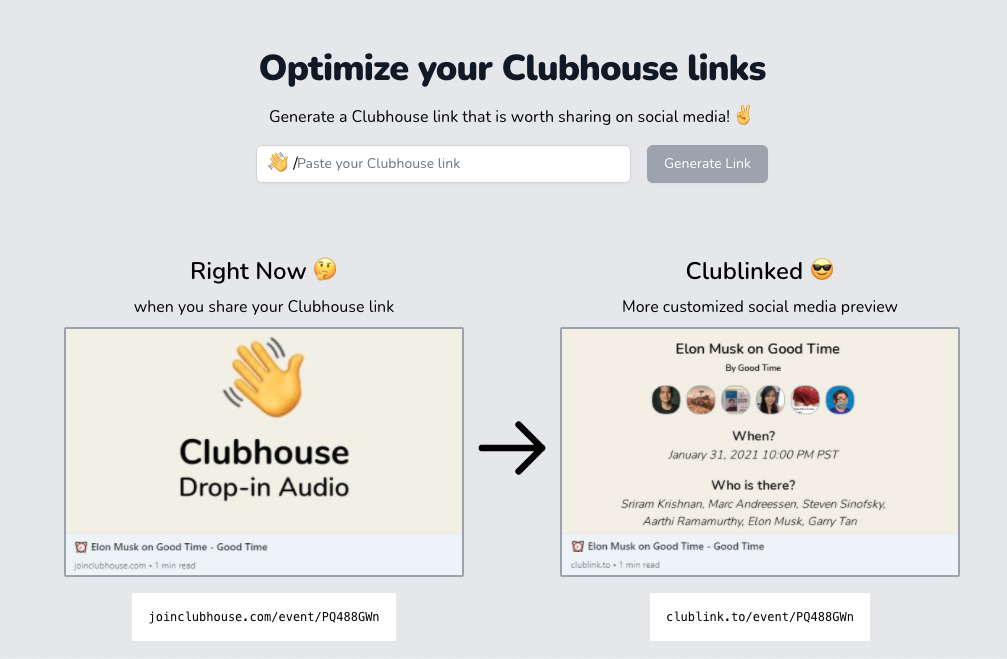 You can also create images with https://clubhype.io/ for a similar effect.
I like Clublinks better as it creates links AND preview.
Here we are.
My first tips to start on Clubhouse and look like a pro from Day 1.
You can learn more on clubhouseguide.com
Let me know if that's helpful and follow me there, I'm @pascalepoppins as always on socials.